No matter what stage of beard growing you are at there are always some changes you can make. For some, darkening their Beard becomes a priority. It could be that the hairs are growing naturally light, or the hairs need a little bit of help looking dense. Whatever it is – this article will run you through the 12 ideal products for darkening your Beard.
If you want to darken your beard with products you have three options – use dyes, use temporary Beard darkening solutions, or you can use natural beard dyes such as henna. Whatever your desired outcome – there is a beard darkening product for you.
Summary of beard darkening products
Here is a summary of all of the beard darkening products that we have looked at for this article.
| Beard darkening products | Price ($) | Links to products |
| --- | --- | --- |
| Dyes | | |
| Grizzly Mountain Beard dye | 16 | Link |
| Cremo No Mix No Mess Hair and Beard Color | 16 | Link |
| Just For Men Mustache & Beard | 25 | Link |
| | | |
| Temporary solutions | | |
| Hair wax | 9 | Link |
| Blackbeard for men formula | 13 | Link |
| Beard pencil | 14 | Link |
| Men's Black Temporary Beard Filler | 15 | Link |
| Hair spray | 16 | Link |
| Toppik hair fibres | 25 | Link |
| | | |
| Natural products | | |
| Amla powder | 6 | Link |
| Henna powder | 7 | Link |
| Black walnut hull powder | 14 | Link |
You will notice that there is a huge difference in prices even within the same categories. For example, if you're looking for temporary beard darkening solutions you can use a tinted hair wax which will set you back only nine dollars whereas the top of the range hair fibres are $25.
Interestingly, even the most expensive products on the list are still relatively inexpensive at only US$25. My recommendation would be to try a few options before settling on the one that works best for your Beard and your desired outcomes.
Which I now go through each of the sections and discuss the benefits of each type of beard darkening product.
The first is one that we would all be very familiar with – dyes.
Dyes
When you think about darkening your Beard the first option that comes to mind is using a Beard dye. If you want to know more about if it is okay to dye your Beard check out my other article – is it okay to dye your Beard? Busting the myths – click here to be taken to article.
As long as you are choosing a Beard dye that has been made by a reputable manufacturer and you are not allergic to any of the ingredients Beard dyes are perfectly safe to use and result in a longer-lasting darkening of the Beard. One of the most common active ingredients in hair dye is para-phenylenediamine (PPDA). This ingredient can cause contact dermatitis and is associated with dermatitis on the face – particularly in Arabic men as they are more likely to dye their beards.
Here are some of the best Beard dyes that you can purchase if you want to dye your Beard a darker colour.
Grizzly Mountain Beard dye
Grizzly Mountain Beard dye is full of organic ingredients that have been specially formulated and manufactured to leave your Beard looking darker whilst also retaining its natural look. The one thing I love about this Beard dye is that there are no chemicals which could cause any sort of reaction or contact dermatitis with your skin.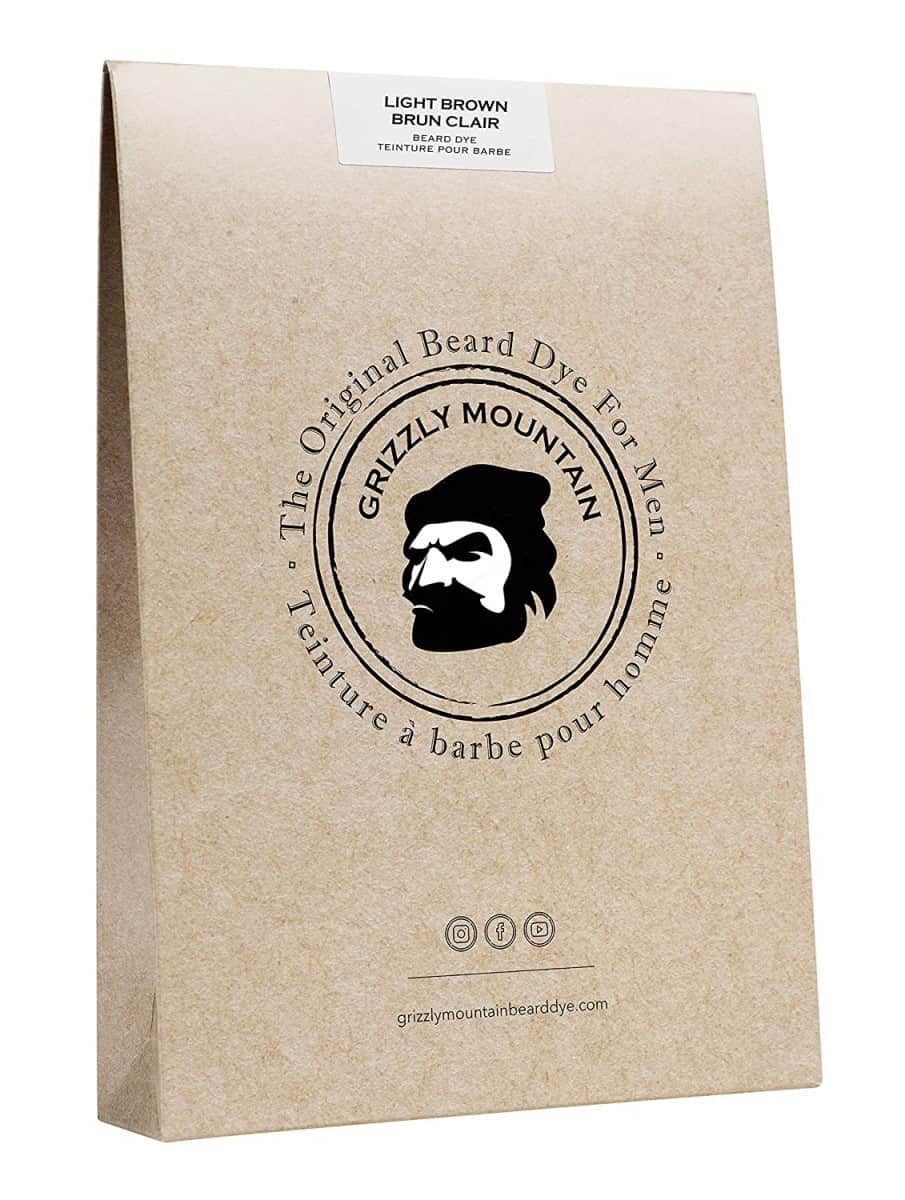 It is primarily made up of plant extracts and uses Indigo and Hannah as a large portion of the active dying ingredients. For example, the light brown Beard dye contains this selection of plants/herbs:
Lawsonia Inermis Extract, Indigofera Tinctoria Extract, Emblica Officinalis Extract, Eclipta Prostrata Extract, Melia Azadirachta Leaf Extract
Each pack is designed to last from anywhere between two applications up to 8 months – depending on the length of your Beard. If you have a Wizard length Beard the pack will only last about two applications. If you have a goatee, expect much more milage from your package.
Cremo No Mix No Mess Hair and Beard Color
The great thing about this product is that it comes premixed and means that it is a no mess solution for darkening your Beard. This is a foam product which means that it may be easier to apply for some customers. To activate the product all you have to do is click together the two components and press the button until the product starts foaming. This means that there are no gloves required and it is much easier to spread evenly throughout your Beard.
If you are looking for a fast method to cover your Beard with product – I think this is it.
The good thing is that it is able to be stored away for repeated use. So, if you don't use all of the product in one go all you have to do is seal it back up for a future use. The colour last for up to 6 weeks which makes this a fantastic option for those of you who do not want repeat your application of your Beard darkening product too often.
Just For Men Mustache & Beard
Just for men is a well-known American-based hair colouring company. This manufacturer of beard darkening products is well known for its quality dying products and they offer 10 different shades of dye for every beard type. The shades range from a light blonde to jet black colour.
If you are in doubt of which shade you should choose you should always go with the lighter shade because you can always add more die or go darker. It is very hard to lighten up a beard once it has been died a specific colour.
You can apply this product as often as you need to maintain your Beard colour.
Now, let's take a quick look at the temporary beard darkening products on the market.
Temporary solutions
Beard dyes are perfect if you know what colour you want your beard to end up and you want it to last for a number of weeks. However, not every man wants their Beard to be dark for a long period of time.
Sometimes, you just want your beard to be dark for a specific event or you want to test out what it would be like to have a different coloured Beard. Also, you can use temporary beard darkening products for covering up the old grey hair or light patch.
The great thing about temporary beard darkening products is that you are not stuck with your choice and a simple shampooing will remove the colour that you have put into your Beard.
Blackbeard for men formula
Blackbeard for men – formula X is like a mascara for beards. You can use this to cover up specific areas of your Beard by simply wiping the applicator brush across the problem areas. You can use it to fill in a few patches or you can use it to vary the colour intensity of your beard.
It only takes about a minute to brush on and the application is mess free. You do not need to mix chemicals and the cleanup is as simple as putting the applicator back into the bottle.
This product lasts for about 12 hours and fades naturally over time. The good thing about this product is that if you need to touch up it only takes seconds and the bottle is small enough to store in a pocket or bag.
If you have a particularly long beard it may take a while to perfect the application to the point that it looks even throughout your beard. Application every morning will be required and it will fade throughout the day.
If you find that you touch your face a lot during the day this product may end up transferring to your hands and clothes.
Men's Black Temporary Beard Filler
Beard gains is a company which focuses on manufacturing products that make your beard look better. This Beard product can be used to cover up bald spots on your beard, fill in any patches, and add volume to your hair. It can also be used to change your Beard colour and make it darker.
This product is you just have to dab the sponge into the product and then touch the sponge with the powder onto your face way you want the fibres to stick. They also supply a mirror in the lid so that you can see what you're doing at all times.
This product is easy to wash out which means that if you are doing excessively sweaty and hard labour at work it could end up dripping down your face. Alternatively, you can use their Beard colour locking spray for keeping your hair darker after application of products and dyes.
Beard pen
Beard pens do exactly what a sound like – they allow you to draw in hairs so that your beard looks fuller and darker. Beard pencils come with different types of tips from a typical pen tip to one with a micro fork. This micro fork allows you to apply more product to your face in a shorter period of time. The Beard filler is designed to reduce the appearance of gaps in your Beard, moustache, and eyebrows.
It's as easy as using a pen and it lasts all day. The long-lasting formula of many Beard pen and pencils allows you to wear the product for up to 24 hours and many of them are sweat proof and water resistant. This means that if you get caught in the odd shower or you sweat a little bit through the day it will be likely to stay in place.
Using a brush after application will soften the lines that you have just drawn into your Beard and evenly distribute the product throughout your Beard so that there are no harsh gradients or lines for people to pick up on.
Toppik hair fibres
You can also consider applying some hair fibres to the hairs that already exist on your face. There are products such as Toppik hair fibres.
Hair building fibres can either be applied by shaking the hairs over the surface of the beard or you can use a spray applicator attachment. Shaking the hair building fibres are later coverage over a large area but if you want more precise application then go with the applicator attachment. This simply provides a puff of air to deliver the hair fibres.
Use this beard darkening product as follows:
dry and style your hair as usual – hair fibres used static to stick to the hair so having as dry a hair as possible will work better.
Apply the hair fibres using the applicator or shake over the area where you want darker results.
Some products come with a hairline optimiser which can be inserted to the edges of the beard to achieve a more natural line.
Gently pat the hair to disperse the hair fibres and stop any clumps that have formed from staying.
Consider using a fibre hold spray which is a specially formulated to increase the bond between the hair building fibres and your hair. This will mean that it last for as long as possible.
These will last until you wash your beard hair in the shower. But it should be easy to apply the next time that you want your beard to appear darker.
Hair wax
If you want to darken your hair you can also use a hair wax with a colour in it. It's as simple as styling your beard with a beard wax that has been dyed to match the colour of your beard.
The issue with this is that a lot of beard waxes that have die in them are formulated for hair and can be a little bit of overkill for your beard. Be sure to use a wax that does not make your beard look wet when dry. Looking for a matte effect hair wax will be your best option.
Hair spray
You may remember this from your childhood – a coloured hairspray. I remember using this to quickly change the colour of my hair in a temporary and quick fashion. This particular brand of hair spray comes from a trusted manufacturer of hair products and is quick and easy to apply. It washes out very easily with just shampoo.
This hairspray provides a strong lasting colour and doesn't make your hair sticky. Some of the downsides of using a spray is that it can be a little messier than using a wax or balm-based product. The trick is to use a towel that you no longer want to use in the bathroom and place it under your beard as you are spraying.
Some people find that it is not very good at covering up really dark coloured beards because it is only a superficial layer on the surface of your beard. The colour can also transfer very easily to your clothes so make sure that you don't wear a light top underneath.
Natural products
You may also want to consider using a natural dye for darkening your beard. There are many options for naturally darkening your beard and I have a full article which gives you the rundown. If you want to find out more about how you can naturally darken your beard – click here – I go through everything you need to know about using natural products and I talk about a few more solutions that I do not have space for in this article.
Here are the best options for using natural beard darkening products.
Henna powder
Dyeing your beard with henna powder is a relatively simple process and you can even buy a pre-packaged henna dye (like this one on Amazon).
All you have to do with a pack is to prepare the mixture using warm tap water as indicated on the packet. Then you evenly apply throughout your beard and wait for a minimum of two hours.
A lot of people wrap their beard in cling wrap to make sure that there are no drips which stain your clothes or your furniture. Two hours is quite a lot of time to be walking around with dye in your beard.
If you decide to buy henna as a dry powder you can also find tune the mixture so that your hair can be more auburn, orange, chestnut brown, or burgundy. This takes a little bit more preparation but here are the basic steps:
Before getting started remember that henna will dye anything it touches on this includes your skin. Remember to wear gloves and protect the area in which you will be applying it to your beard.
You will need about 50 g for short beards and about 100 g if your beard is wizard in length. Mix with hot tap water slowly until you create a paste that is the consistency of cake batter.
Allow the mixture to sit for about 12 hours with a plastic wrap on top. This will mean that the dye is a great consistency when you want to work with it. You'll notice that the mixture will darken to a dark brown over time, this is an indication that is ready to use.
Apply the paste throughout your beard and spread as evenly as possible. You can't use too much and if in doubt apply more.
If you get a dye on your skin wipe it quickly with a hot wet towel.
Wait for at least two hours for washing out the henna dye. The longer you leave the dye on the deeper the colour will be.
After two hours rinse out your beard over a sink. Do not be tempted to do this in the shower because the henna will stain your body and bathtub/shower cubicle.
Wash with shampoo and follow-up with conditioner and your beard is now darker!
You can add a range of different things to change the colour of your beard once you have applied henna. For example, assets like lemon juice and vinegar makes the dye more strawberry blonde. You can use coffee or tea to make it a darker colour and some people even use brandy to give it a more intense red colour.
Amla powder
Amla Powder is also known as the Indian Gooseberry. It is found in places like India and the Middle East and has been used in some form of medicine for centuries.
Besides being a supplement, you can use Amla powder on your hair. There are plenty of recipes online but here is a basic rundown on the steps that you need to go through if you are going to die your beard using Amla powder.
Add about one half of a cup of Amla powder to a bowl and add ¼ cup of water.
Whisk the water and the Amla powder together to make a thin paste. You want to aim for it to be thin and spreadable without being too runny.
Apply this paste to your dry beard hair and moustache into the hair until it covers your beard evenly.
Cover your beard with a beard wrap and leave for at least 30 minutes. The longer you leave this in your beard the darker the results will be.
After 30 minutes jump in the shower and rinse your beard hair with water. You know when you've got it completely out because the water running off your beard will be clear.
There are some unsubstantiated claims about other benefits such as strengthening your hair and preventing beard dandruff but using it to dye your beard naturally is something people have been doing for a long time and getting good results.
Black walnuts
You can purchase black walnut hull powder to make this process much easier for yourself rather than using whole walnuts.
Here is the process for using the powder to dye your beard:
Boil about 5 cups of water and add 5 tablespoons of the black walnut powder. Allow it to sit for about one hour.
Once the solution has cooled down you can apply it throughout your beard evenly.
Allow it to sit in your beard for at least 15 minutes and allow it to air dry for 3 to 4 hours after applying the paste.
You may want to apply heat to the hair as the walnuts hair dye sits in it as there is some evidence to suggest that it results in a darker colour for your beard. You can also take your beard out into the sun while it has the black walnut paste in it for a similar result.
If you find that the paste is a little bit too thin you can thicken it with some corn starch.
Some people want to darken their beard hair without using dyes. In the next section you can talk about your options for darkening your beard hair using products which don't actively dye the hair fibres.
Summary
In this article we went through all of the ways that you can use beard darkening products. If you want a permanent solution for your beard you need to use a beard dye. A beard dye can be composed completely of natural products or it can be from a manufacturer that you trust such as just for men.
There are plenty of temporary solutions for dying your beard and making your beard darker. The great thing about these options is that you can try them out to see if your beard looks better before dying it permanently.
There are also some other options which are natural product based. This is particularly useful for men who are sensitive to the ingredients in traditional hair dyes but want a natural finish to the darkening of their beard.
No matter what you choose remember that you should trial a few options before settling on the best one for you. Also, the best solution may not be right all of the time and depending on the situation that you are dying your beard for you may want to swap between permanent beard dyes and more temporary solutions.