Choosing a beard style comes down to a load of different factors. The top two are the potential beard growth that you may have as well as the sort of beard that will suit your face. The beard growing journey can be a very long one so, ultimately, you need to choose a beard style that you want to grow. At this point, you should focus on the beard that you WANT irrespective of how fashionable that beard may or may not be at any given time. If you have seen a beard that you like – you should aim to grow it! The great thing about beards is that you can constantly change the style as and when you feel like it by trimming for growing certain parts of it. In this article, we are going to look at the different types of beard styles and what will work for your face!
Choosing the right beard style for you is a personal choice that every beard grower needs to make. Certain beard styles come and go and their popularity also rises and falls over the years. The best way to choose is to look at all of the types of beards that you can adapt and use as inspiration.
Here I hope to fill you with that inspiration and so let's start with short beard styles!
Short beard styles
Short beard styles are some of the most versatile and workplace friendly types of beards! They will also act as the first beard that you will grow and so I recommend that as you are growing it out you take a moment to trim it into a short beard for a couple of weeks before continuing your beard growing journey. This will give you the opportunity to "try-out" a beard and assess all of the facets of having a beard. Short beards are a perfect option for many people for a load of reasons:
It is easy to maintain a short beard
Trimming at home is easy with a set of trimmers
You can grow them quickly
They can drastically change your appearable
Are the most "professional friendly" type of beard
Don't require too much product for maintenance
+ much more
Short beards occupy the length from stubble until about one to two inches in length. there is, of course, no hard and fast rule but that is where we'll draw the line for this article. Let's take a look at all of the different short beards that you could grow.
Stubble
Every beard grower goes through the stubble stage at some point. This is about 2 weeks' worth of growth and can be maintained with an inexpensive trimmer.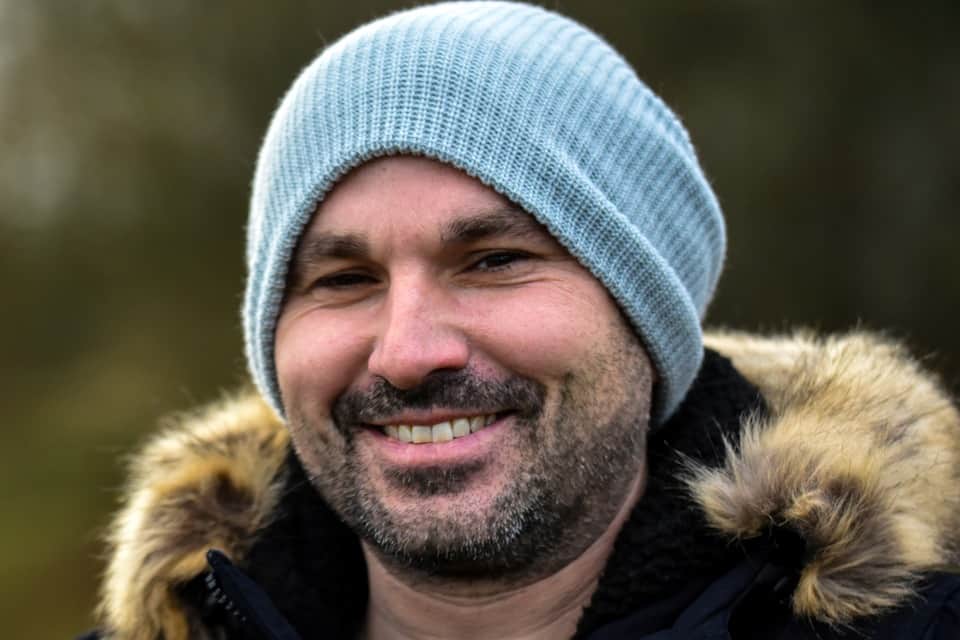 This style is a really easy way to try out what you may look like with a beard in a short amount of time. Studies have also shown that men with stubble are deemed as more attractive than men with much longer beards. So if that aspect of beard growing is important for you then you'll be on to a winner with a slight stubble beard. You can also combine this look with faded sides or razor sharp cheek and necklines. There's no reasons that this type of beard can't be taken up a notch with a little bit of grooming!
Defined lines
A defined lines beard takes the stubble look ad adds that next level by making the lines and the edges look intentional and super defined. The perfect defined lines beard has a consistent length across the whole surface of the beard and, by using a straight edge razor, the lines have made well defined.
This wort of short beard is perfect for the professional who wants some facial hair and doesn't want to look unkempt. The maintenance takes a little bit more than the beard above but it can very much be worth the extra effort. Buying a good trimmer that can also get down to the skin is really important too!
Short boxed beard
A short boxed beard looks perfect on someone with a heart-shaped face. The short boxed beard is defined along the jawline and no hair (or very little hair) is visible on the neck. This, combined with a defined cheek line is perfect. The look is suitable for formal occasions and can be combined with a sideburn fade like in the image below.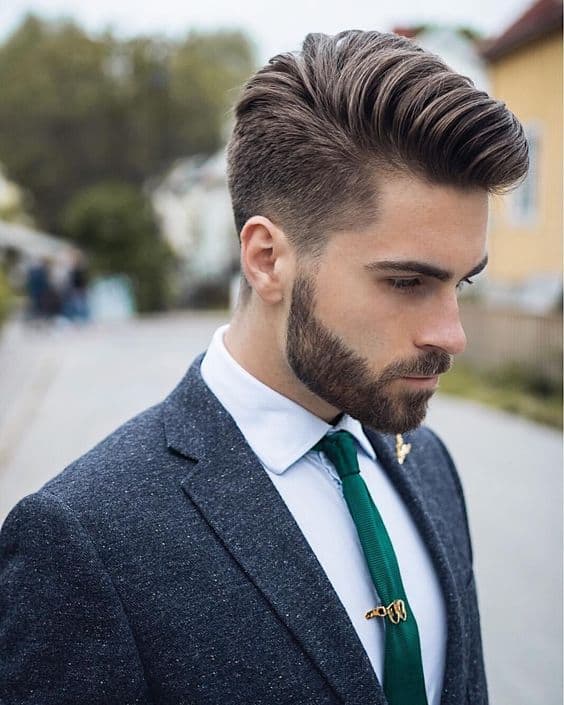 The trick to pulling off the short boxed beard is to have the sharp lines mirrored in your hairline and to be extra careful when defining the jaw. Also, trim up the bottom line of the mustache a little bit above the lip and it'll come together in a lovely package! That said, now that we are talking about the mustache – one of the most popular and underutilized beards is the beardstache!
The beardstache
If you can grow an outstanding, thick and dense mustache – this one could be a winner for you! The beardstache relies on keeping the chin, jaw and sides quite short but allowing extra growth in the mustache region! How long is really up to you but this image below is a brilliant combination in my opinion.
The beardstache can suit a load of face shapes but can be particularly useful for softening the edges of a square face. The style of the mustache is up to you but it shouldn't extend past the jawline for purposes of balance with the rest of the face. The contrast between the length of the beard and the shortness of the beard around it is also up for you to decide what is best. However, I think the best way to rock with look is with a small amount as contrast as possible to make the mustache stand out. Don't get rid of the beard completely as then you'll just have a mustache.
The chin strap
The chin strap has had a fair bit of time in the "popular beard style" list. The chin strap is characterized by the line of hair that lines the jaw and can also define a goatee too. In the early days of the chinstrap beard, the thinner styles seemed to be more popular – however, now you can make the chin strap as thick or as thin as you want to.
This beard is great for someone who has the time to keep it maintained and has an already defined jawline and wants to make it stand out even more. Some larger men have used a chinstrap beard to help define their jawline but this can sometimes backfire and make the jaw look less defined. So use your discretion when deciding to trim in this sort of mustache. If you don't want to define the jaw another great option is a goatee.
Goatee
The goatee is a staple beard style that has been around for a very long time! It is defined as leaving a patch, or ring, of hair around the mouth that is trimmed relatively short and can have very short defined lines too. You can also grow out the hair a little more on the chin and go for an extended goatee look too.
This beard will rely on regular trims to keep it looking intentional and well maintained. You should also trim up the cheeks and neck area of the beard regularly so that there is the maximum amount of contrast between the goatee and the skin. This is particularly important for men with darker hair on their cheeks ans it can look messy really quickly otherwise.
Short shaggy beard
This sort of beard is starting to head into the medium length beards but when it is stopped at about 1 inch in length we can still consider it a short beard style. The trick with this is to just let the beard grow out for about 6 weeks and then trim it back to a shorter length. You should also keep the mustache short. The shaggy look can come from uneven hair growth – which is more pronounced at shorter beard lengths and can be emphasized with a bit of beard balm. This will add a bit of texture to a shorter beard and give it a more rugged look.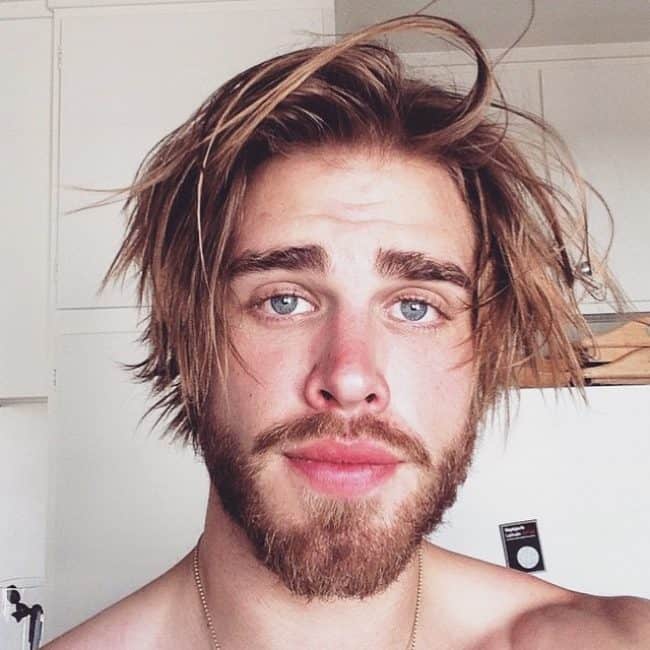 This beard type will suit pretty much anyone but looks great on oval and rectangle faces. It is easy to maintain and can be the launching pad from which to grow a long beard. You may consider growing a longer beard if this style is getting you a lot of great compliments consistently.
The Balbo
The Balbo beard is also pushing into the medium length beard category. This style is characterized by the absence of hair on the cheeks but gives the effect of a full beard by having long hair along the jawline. Having a strong mustache also really helps with pulling off this style!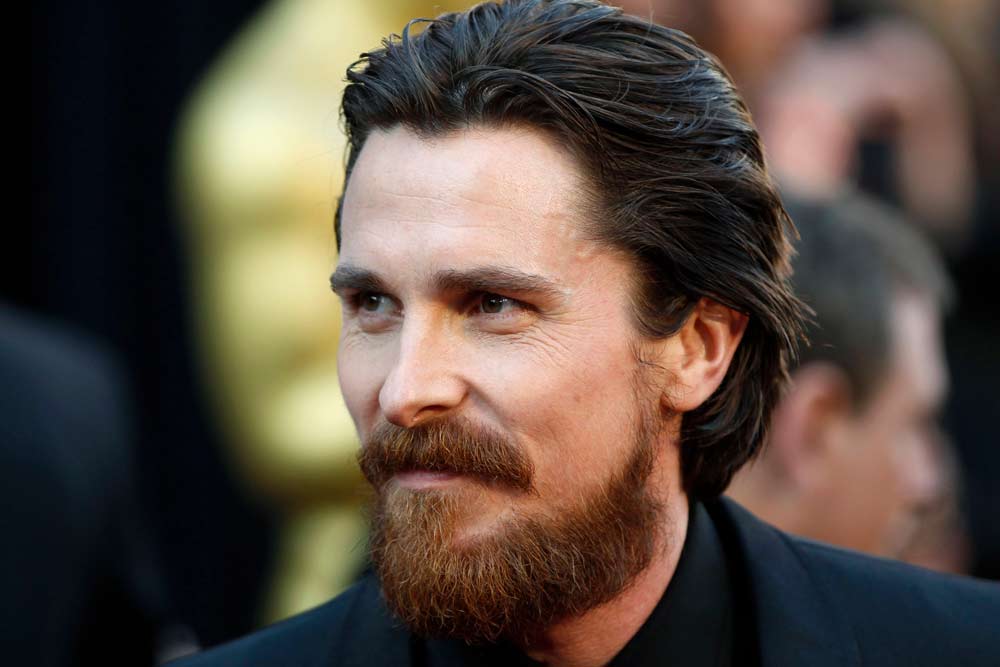 Feel free to grow out the jaw for a length as long as you want. this look would suit someone who will look after it a little bit more than the other styles on the list. Given the length of the hair on the jaw, it'll also require some conditioning with beard oil and balm or wax to provide some level of hold too. A lot of Hollywood actors have toyed with this style. Maybe it is the arty look for maybe it was just in fashion in the US at the time. If you have got good coverage and density on your mustache and jawline this should be an option for you to consider!
Now, let's have a quick look at the common questions that people have about short beards and their maintainence.
Short beard questions
A short beard can be easier and harder to look after than medium and long beards. It all depends on the lines of the beard that you want to have defined and the contrast that you want to get between different areas of your beard. With the right trimmers and a bit of playing around, you can very much make a short beard look great. Let's take more of a look at that question!
How can you make a short beard look good?
Making a short beard look good comes down to making the style and length of each part of your hair look intentional. Unlike longer beard styles there is a small margin of error when it comes to trimming. This is why getting to grips with a good set of trimmers and learning how best to use them will mean your beard remains looking it's best! Here are the areas of the beard to pay particularly close attention to:
The cheek line – the cheek line of a short beard can be left messy and not defined but all but a couple of short beards are going to require you to shave the top part of your beard. This cleans up any stray hairs that may be found on the top line of the beard and keeps it looking more intentional.
The lower mustache line – The bottom line of your mustache should be kept straight and slightly above the lip (unless you are going for a beardstache).
The neckline – the neckline of any short beard is really important and we'll cover how to define and trim your neckline in the next question. Keeping a well-defined neckline is important as this is one of the first places that a short beard can start to look messy.
The evenness of the length of the hair over the entire face – regular trimming with a good quality beard trimmer will be one of the best things you can do to keep your short beard looking awesome! Get a beard trimmer with a number of different guards or guard settings so you can play about with the perfect short beard length. Don't be afraid of moving the beard trimmer a lot to easily access all of the different parts of your face. come at the hair from different angles too!
Maintain any fades – fades are a really great way to make a short beard stand out. You can get a fade for a special occasion – you don't have to keep it all the time. It's best to get fades done professionally – It's really hard to do them on your own! But, there are plenty of great tutorials if you want to give it a go on your own – it'll just take a bit of time to get good at it.
Short beard style neckline
For a full, detailed post on how to trim your neck line check out my other post – how to trim a beard and keep it looking sharp!
For a short beard it is really important to keep your neckline well trimmed. Without the length in the front of the beard people will be able to see straight through to your neck. You can Choose to shave your neckline or you can choose to keep it trimmed. As long as it looks tidy, that is all that matters!
How to trim your neckline for a short beard
There are two methods for finding your neckline:
The first way is to find it is to put two fingers above your Adam's apple while looking up. Where the top of your fingers rest that is the neckline.
Look down as far as you can. Then push your finger into the crease until you can't go any further. This is where your neck joins your head and the perfect place to trim up your neckline!
There is everything that you can use to choose your short beard style. But if you want something a bit longer here is everything that you should know about medium length beards.
Medium beard styles
Medium beard styles are when your hair just a little bit longer than the short beard styles and not as long as the long beard styles. Think about a beard that is about 3 – 8 inches in length. The characteristics of a medium length beard are that it is long enough to sit above the face but it is not long enough to be able to be trimmed into it's own shape – it still sits in the same shape of your face.
Rocking a medium length beard is a brilliant place to stop on your way to a full grown beard and a lot of people love the medium length beards that they stop at this point for a little bit of time. Let's check out what you can so with it!
The even medium beard
The even medium length beard is exactly what it sounds like! It is a beard that is about 3 inches long – all over. The mustache can also be trimmed a little shorter to avoid the hair hitting the top of the lip (which can be a little annoying). Trimming with a medium length on a trusted trimmer will achieve this look.
Trimming this beard will require you to go over the hair in a load of different directions to make sure you have trimmed all of the hairs that lie in different directions. This beard suits nearly every face shape but will look particuarly good on hart shaped faces!
Faded sides medium beard
If you have a hair style that fades at the bottom. Or, if you are like me and have a shaved head it would be a good idea to see if blending that fade into your beard will help define your medium beard. This beard is characterised by a heavier chin and mustache length than the sides.
This beard will be have to be trimmed up regularly – about every two to three weeks to keep it looking sharp. You can decide to keep the cheeks messy or you can also define the cheek line a little bit more, like your next example.
Sharp lines medium beard
As you beard gets a little bit longer there is no reason that it cannot still be really well maintained. Defining the lines of your beard – like the cheeks and the neckline – is one of the best way to create a more formal look from your medium length beard. Great for formal or any other special occasion that you may be attending.
If you match this beard with a slightly dressed up look you are in the perfect position for a killer look. The great thing about this beard is that you are able to trim up the lines yourself with a good quality single blade razor. If you are unsure of where the lines are best drfined for your beard, I'd recommend getting a barber to do it with a cut-throat razor and then maintaining it yourself at home. Pass your trimmer over the rest and you'll be sorted!
Short mustache medium beards
If you are struggling to grow a mustache you can trim it right down and leave the chin and sides a little bit longer. If you are struggling with your mustache check out my mother full article and other mustache-less beard options for a weaker growth on the top lip.
This beard will need you to have a trimmer with a multiple of length guards. The mustache area can be really tough to get into with a trimmer so you'll have to select one with good maneuverability. But a really trendy looking beard for those who want a
Shaggy medium long beard
The last beard on the list of medium beards is one that can almost make it into the long beard section. The hair here is starting to get to the limit of the medium beard range (about 8 inches) but still floows the shape of the face…just!
A lot of trimmers will no longer be able to trim the longest part of this beard in a reproducible way. They will tend to flatten the hair rather than cut it. To keep the bottom part of the beard in good shape you'll have to get use to using scissors to put the finishing touches to you beard. Also, you'll have to stat thinking about using beard balm and wax to keep the frizziness down on the sides. For a full run down on how yo apply beard balm – check out this article – a comprehensive guide on how to apply beard balm.
The great thing about all of these different types of medium length beards is that they are easy to maintain and can be "fancied up" by quickly defining the cheek line with a razor. Now let's take a look at the most frequently asked questions about a medium beard.
Frequently asked questions about medium beards
Medium beards exist (almost) in the no man's land region of beards. They are not too long and not too short – just the right length for many men! But it can be a little confusing when we talk about what a medium beard really is. So lets clear that up right now!
What is a medium beard?
A medium length beard has no universally agreed length. But for many here is what is considered short medium and long:
| Beard type | Length (inches) |
| --- | --- |
| Short | 0.5 – 2 |
| Medium | 3 – 5 |
| Long | 6 + |
The beard length can be determined by the longest visible length of hair on the chin. OR also from the chin to the tip of the hair. What every it is – when you don't have a short or long beard – you beard is in the medium range of beards!
The good thing is that a medium length beard will suit almost any circumstances and face shape. SO a medium beard can be a perfect place for you to hold your beard journey as you are growing it out.
How do you style a medium beard?
A medium-length beard starts to require more products and attention than a short beard. You need to start using a beard balm and potentially a wax if you are finding that your beard is not held well by the small amounts of wax found in a beard balm. Here is my morning routine for a medium-long beard.
The styling that you put into a medium beard will be a combination of cut and product. If you are not sure about shaping a medium length beard then pop to your local barber and I'm sure they will give you a tonne of great advice. On the product side of things, you should use a beard oil regularly and also invest in a good brush and comb – check out my recommended products page for links to the best stuff at the moment!
Also, You'll have to start washing it more regularly as it gets longer. You should aim to wash your beard at least once every three days and follow it up with a great beard conditioner too. This will make sure that your beard is not musky and stale. the longer the hair gets the more time you are going to have to put into maintenance. But the results will be worth it!
Now if you want to continue your beard growing journey – lets take a look at the long beard styles that you'll be able to pick from! Some of these get stupid long!
Long beard styles
Long style beards are a beard way to really own your style and grow a long beard that makes you stand out from the crowd! When you get into the long beard styles you have to start a serious daily grooming schedule so that you can tame the stray hairs and make the most of your defining style feature. There are not many fashion accessories that you wear right on the front of your face – so you want to make sure it looks good most (if not all) of the time. Here we'll go through the best options for a range of different beard styles and what sets them out from the rest!
Ducktail
The ducktail beard has a good length at the chin and comes to a point. The sides are kept relatively skinnier and match the line of the chin so that it all flows nicely to the front of the face. The mustache can be kept longer or shorter and you can also define the cheek lines with a single blade safety razor for extra impact.
Keeping the beard symmetrical and well-styled will require a fair bit of balm or wax. If you want a long beard but don't want the busyness that often comes from the curliness of the sides – this beard is a fantastic option for you. Keep the sides well-trimmed and the chin at a reasonable length and the ducktail beard will fit in in nearly every professional setting!
Square cut
The square-cut beard is a long beard style where the bottom of the beard is cut flat. This bead is perfect for someone with a heart-shaped face as it can add a level of masculinity to the jawline. It is a bold beard style that can be as long or as short as you want it to be – but don't go too short – it relies on a certain amount of length on the bottom to pull it off.
Backed up with a nice bushy mustache this beard style is a winner. It is also very easy to maintain yourself as a good set of quality trimmers will help you flatten the bottom as often as you need to. If you have a particularly thick beard you should check out my guide on the best beard trimmers for thick hair. Let's look at a really classic beard look – the lumberjack!
The lumberjack
The lumberjack beard style is something that a lot of beard growers aspire to. It is the perfect combination of long, unkempt but strangely always well groomed and bold. The lumberjack beard is quite often the beard that men end up with if they have no plan for a style. All parts of the beard are grown out at the same length and can be trimmed to keep in those stray hairs.
The trick to pulling off this look is not to worry too much about defining the lines but making sure that the beard is even. There needs to be a certain amount of messiness so no hard lines are required. Keep the cheeks messy and the mustache long and you'll have a rocking lumberjack beard to make all of your beard growing friends jealous!
Big and bushy
We are not mucking around with this beard! This beard is a serious style statement and requires a lot of patience from you. A big and bushy beard is a beard that will require you to have a good dense collection of hairs and for the length to be supported by the hairs under the face on your neck. The thicker you can get the hair mass the better!
As much as it seems that this beard is a "set and forget" type of beard – it is anything but! Keeping hair this long looking good requires a lot of daily maintenance and products. A full daily schedule of brushing, oiling, and beard balm or butter is required. You also are using far more beard product than you have ever used to make sure that it is evenly dispersed throughout the beard. There won't be enough sebum generated by the skin on your face and so you will have to choose a good quality oil!
Hipster Beard
Love them or hate them – the hipster beard is here to stay! The thing that sets these beards apart from the rest is that the beard is long and groomed to perfection with a hint of messiness in the form of a long mustache or other bold feature – like a plat.
The hipster beard relies on a well defined cheek line and application of a load of product to keep everything just so. Be sure to use products that give you the matte effect – we don;t want a shiny looking beard! A beard of this quality is almost certainly maintained by a professional every three to four weeks, unless growing.
Wizard
Don't we love a good old wizard beard! This beard is characterized by a massive length! Often the beard starts to thin out at the bottom as the natural density is unable to keep up with the the longest and fastest growing hairs. But that is what makes this beard so awesome.
The length of the beard allows the beard to lay flat against the face resulting in a lower bushyness than other long beard types. It is also the perfect beard to invest in a beard straightener to keep it flat and pointing in one direction. This beard takes many years of growth and dedication to the beard-growing process. Like the beard above – using a good amount of beard oil and leave-in conditioner – whether that is in the form of a balm or butter is vital for keeping this beard in good shape and minimizing breakages.
So there we have it! Those are the most important beard styles that you should know about. Feel free to combine and change these styles as you experiment with your very own beard style! If you are not sure about what beard style you want to grow – grow past the beard length and cut it back to make sure that the beard is full and thick!
Now, let's look at some of the frequently asked questions about beard styles!
Frequently asked questions on beard styles
Here are some of the most asked questions about beard styles. We will take a quick look at each of them so you can be sure that you are selecting the best beard style for you!
How do I choose my beard style?
choosing a beard style is a very personal decision. It can be easy to choose a style that you think is fashionable or that you have seen on someone else. The truth is that your beard needs to look good for your beard hair density and face shape. These are the things that you need to take into consideration when you are growing out your beard and choosing a beard style:
The hair density on different parts of your face
Your face shape
How long you have to grow a beard
If your partner or job require you to stop at a certain length
All of these factors will come to play when growing a beard – check out my other article on the ultimate beard growing guide – for some guidance on the best beards for a load of situations.
Are beard in style 2020?
There is no doubt that beards come in and out of fashion – but having some form of facial hair is getting more and more popular. In 2018 shaver companies were reporting a decrease in shavers as men were opting for more facial hair than previous generations. In 2020 there are more and more reasons to grow a beard to add to your style! It is a brilliant way to stand out.
But you shouldn't grow a beard just because it is "in style". You won't be able to muster the staying power through the itchiness and daily maintenance and your beard may end up looking a little bit shabby. Growing a beard is a lifestyle choice and you should make the choise to grow a beard based on your own desire – not out of what is deemed as popular or not at any given time.
In short – yes beards are always in style!
Do beards increase attractiveness?
The thing is, a load of people will always have an opinion on whether beards are attractive or not. There have been a number of polls and surveys over the years but they often contradict one another. Here are a few polls where beards have been at the center of the discussion:
Poll by
Link
Result(s)
YouGov
Full report
– Judgment on character = 20% prefer clean-shaven, 6 % prefer beard
– Masculinity = 24% clean shaven more masculine, 19% beard more masculine
PrimandPrep
Website
– Short Stubble beard was most attractive
– Full beard 5th place
– 3 x more women think beards are unattractive
Focus Pointe Group
Website
– 4% of men would prefer a beard (38% prefer clean-shaven)
– Most men need to be clean-shaven for work
– 9% of their partners prefer a beard (37% prefer clean-shaven)
It seems to me that most people when polled say that they prefer clean-shaven men. However, when you look at the research it seems to be the opposite. I sit that we should believe a random poll or science? As a bearded man and scientist, I say I trust the science!
What beard length is most attractive?
In research published by the Journal of Evolutionary Biology titled "the masculinity paradox: facial masculinity and beardedness interact to determine women's ratings of men's facial attractiveness", researchers asked 8,500 women to evaluate the attractiveness of men of three categories – bearded, fully bearded or sporting a goatee.
They used photos of men as they grew their beards. The results showed that men who were sporting full beards were seen as more mature, masculine, socially dominant, and aggressive. Beards were also a trait that women would consider when choosing a short or long term partner.
Are bushy beards attractive?
The beauty of a beard is in the eye of the beholder and some people find bushy beards attractive while others do not. If you are happy with the bushyness of your beard than that is all that matters. Keeping your beard looking intentional by keeping it well maintained and trimmed seems to be the best way to keep any bird (not just bushy beards) looking their best and making them the most attractive that they can be!
Conclusion
There we have a massive list and explanation of all of the beard styles that are available for you to choose from. As you are growing your beard you can stunt it to keep it a certain length if you feel like you need to. Always speak to a professional barber when you think that your beard needs a little bit of direction. They will always be happy to help!