There are many awesome reasons to dye your beard white. It could be that you just want to look older and more refined or it could be the time of year when you have a beard and you want to play Santa. For whatever reason you want to change your beard colour there is no doubt that it can significantly change your appearance. Perhaps you are concerned about grey patches appearing on your beard and you want to "own it" and make it white. In this article, we are going to go over the temporary and permanent ways of making your beard white. How can I make my beard white? Let's find out!
You can make your beard white temporarily by using products such as coloured wax, coloured hair spray, hair chalk, white hair make-up, and many more products. If you want a permanent solution you can use a two-step process where you bleach your hair and then a platinum blonde toner.
That will give you an awesome white beard that lasts!
If you have particularly dark hair you may struggle to achieve a full white beard. In this instance, you may need to use harsher treatments on your hair.
Before you do that let's take a look at the temporary ways that you can make your beard white that will wash out and be easily removed when you are no longer playing Santa.
Temporary ways to make your beard white:
There is a multitude of products that you can use to make your beard white. Check out the list in the table below!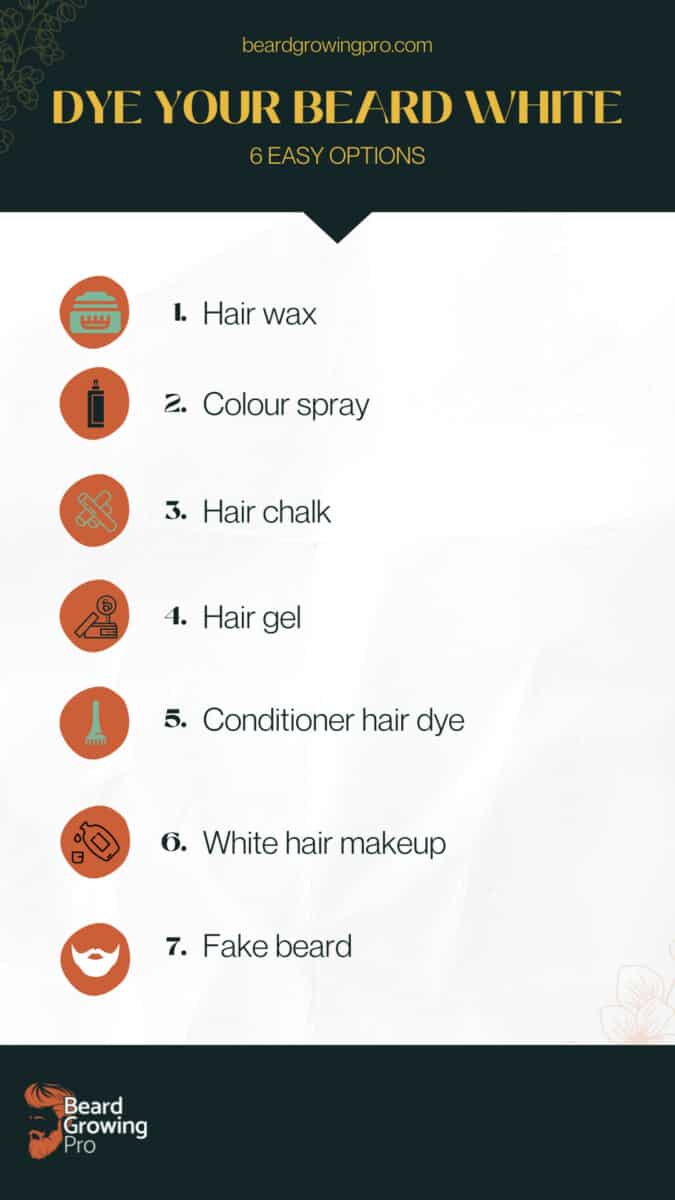 Hair color wax
Hair colour wax is a wax that contains a dyed pigment that will give you a white bleached-looking beard. The good thing about hair colour wax is that it also allows you to colour and style your hair at the same time.
It's easy to wash out provides a stronghold and leaves no stickiness in their hair once dried.
Get this on Amazon: https://amzn.to/35qeLIh
Pros
Works well on dark hair
Easy to wash out
This product is awesome to use on Afro black hair. And covers dark hair very well.
You can apply it with a mascara brush to add highlights to your beard or a toothbrush/comb if you are applying it to a larger area.
You can also wear some gloves and swipe your fingers through the wax and then swipe it through your beard from the route to the tip.
These waxes normally dry within a few minutes and are easy to shampoo out in the shower when you want to return to your normal beard colour.
Hair color spray
You may remember this from your childhood – a coloured hairspray. I remember using this to quickly change the colour of my hair in a temporary and quick fashion. This particular brand of hair spray comes from a trusted manufacturer of hair products and is quick and easy to apply. It washes out very easily with just shampoo.
Get this on Amazon: https://amzn.to/3nYQv3n
Pros
Not sticky
Easy to wash out
Cons
Overspray
Not great for dark hair
This hairspray provides a strong lasting colour and doesn't make your hair sticky. One of the downsides of using a spray is that it can be a little messier than using wax or balm-based product.
The trick is to use a towel that you no longer want to use in the bathroom and place it under your beard as you are spraying. You can comb out to even up the colour.
Some people find that it is not very good at covering up really dark coloured beards because it is only a superficial layer on the surface of your beard. The colour can also transfer very easily to your clothes so make sure that you don't wear a dark top underneath.
Hair chalk
Hair chalk is probably the least permanent way to colour your hair.
They come in an array of colours and white is one of the options. It is fully washable and is completely non-toxic and is very vibrant.
All you have to do to apply is comb your beard with the hair chalk and keep going until you reach the level of colour you want.
Get this on Amazon: https://amzn.to/2JeKKQi
Cons
Hard to transfer to some types of hair
Transfers to fabrics easily
Some people have issues getting the chalk to transfer to their hair. It seems to be the trick to applying hair chalk to get a good colour is to do multiple very light brushstrokes through the hair.
Hair chalk easily and readily transfers to other surfaces so don't wear anything you don't want to get chalk on.
Hair gel
This white-haired gel will bring you a shade of bright white that is far brighter than a silver hair dye. It is a temporarily white hair colour there is used for adults and kids and can be used on your beard. You can use it on both dark and light hair and provides a stronghold similar to that of a stronghold hair gel:
Pros
Multiple colors
Blow dry to fix color
Easy to wash out
Cons
Dries hard
Messy application
The best way to apply this is to use a little bit of hair gel at a time and run it through your beard hair using gloves. You can then blowdry and brush your beard at the same time to lock in the colour of the hair gel.
A top tip for this is to mix it with a leave-in conditioner as you can make the bottle go further and save yourself the hassle of buying 2 to 3 bottles to cover a long beard.
Just a reminder that this is a very hard gel when it dries. So you cannot restart your hair once it has dried fully.
Conditioner hair dye
You can condition your beard while you are dying it white. This conditioner is a combination of a colouring agent and a conditioner. It is a non-ladder conditioning cleanser which is designed to infuse colour into your hair with every wash. The results will typically last about 10 to 15 shampoos:
Get this on Amazon: https://amzn.to/3nXihxi
Pros
Semi permanent option
Very effective
Cons
Can stain bath tub
Not great for very dark hair
People are very happy with the results of this conditioner hair dye. This is a semipermanent option for those that want a longer-lasting solution but don't want to commit to permanent colour change. People think that this is the best way to apply it:
apply to dry hair and let it sit for 10 to 15 minutes (the longer you leave it the more intense the colour)
wash it out with your favourite shampoo.
This is relatively new to the market so it may be an effective way to dye your beard white while providing a longer colour than other options on this temporary beard whitening list.
White hair makeup
White hair make-up can be brushed or sponged onto the hair. One of the most popular ones is Mehron's hair white:
Get on Amazon: https://amzn.to/2Vk94TH
Pros
Water based formula
Non toxic
USA company
Cons
Dries hard
May require many layers
This is a water-based formula which means that it will not damage your hair and is easy to remove with soap and warm water.
It has been made in the USA since 1927 from non-toxic ingredients and it is one of the best hair make-ups you can use.
A little bit of this product goes a very long way and if you have darker hair you can put on two coats of the product.
You can easily apply the make-up to your beard with a toothbrush and once it's dry it does not come off when you touch your beard. One issue that you may experience when you apply layers to your hair is that it goes quite hard. If you have dark hair and you need to apply many coats it may feel like it has glue in it and is super stiff and crunchy.
To remove this hair make up all you have to do is use shampoo or soap and it will come off easily.
A fake beard
One of the last ways that you can create a fake white beard is by using a good old-fashioned fake beard. Yes, I know that this won't give you the best results and it may not look very natural but it is far easier to put a thin fake beard over the top of your existing beard than is to dye it.
There are all of the temporary ways that you can make your beard white. The above solutions are perfect if you only want your beard to be white for a certain period of time like if you want to dress up as Santa or play dress ups in any other way.
Now, let's take a look at the steps you need to take if you want your hair to become permanently white. At this point, you've probably guessed, correctly, that you will have to dye your beard and head to a professional to get it done properly. A professional barber will ensure that you end up with much better results.
Make it permanent with this two-step process:
To end up with a really good white beard you have to go through separate dying processes. This is because if you only bleach your hair it will end up being much more yellow than white.
You, therefore, need to back up the bleaching with a platinum blonde or white toner to complete your white beard transition.
Use a bleaching agent
Because your beard lies on top of very sensitive skin i.e. your face. You have to be very careful when you are bleaching your beard. This is because you need to make sure that the bleach doesn't touch your skin and also that it stays away from your eyes and mouth. Easier said than done.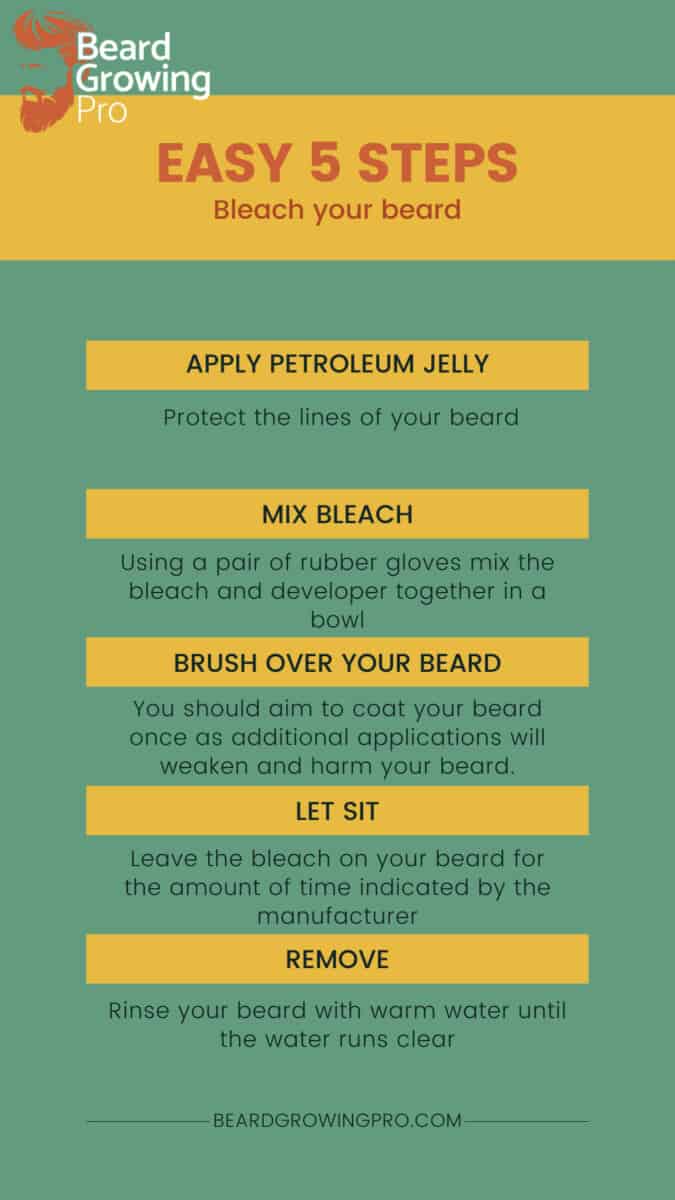 Here are the steps that you need to go through if you are bleaching your beard:
use petroleum jelly to protect the lines of your beard – you have to use a petroleum jelly based products like Vaseline to make sure that the bleach doesn't come into contact with the skin next to your beard.
Using a pair of rubber gloves mix the bleach and developer together in a bowl. Use a bleaching and develop a product that has specifically been designed for your face.
Using a applicator brush you should dip the brush into the bleach mixture and brush over your beard. You should aim to coat your beard once as additional applications will weaken and potentially harm your beard.
Leave the bleach on your beard for the amount of time indicated by the manufacturer. Use rubber gloves to expose the root of your hair to check that is gone all the way to the base.
Rinse your beard with warm water until the water runs clear and any residual bleach has been removed completely from your beard.
You will find that this will cause your beard to look more yellow than white.
It is a common misconception that bleaching hair causes it to go white and the yellow or orange tones are completely normal if you are only using bleach to make your beard hair go white.
Use a platinum blonde toner
You will need to use a semipermanent toner which can be found in liquid or cream form. This will allow you to impart the white colour to your beard in an easy way without further damaging your hair with subsequent bleaching.
Apply the toner to your hair evenly and massage deeply into your beard.
The faster you apply the toner the better the results will be.
If you have a cream apply it with a brush to sections of your beard by parting the hair and applying it to sections at a time. You can buy permanent toners which will last for up to 4 weeks depending on how often you wash your beard.
Here is the best way to apply the toner to your beard:
mix the toner and the developer in equal parts in a nonmetallic bowl.
Separate your beard into sections – separate it down the middle and then across the cheek a couple of times.
Apply the toner from the root of the hair to the tips in small sections working from the roots and sweeping out to the tips.
Let the toner sit in your beard for about 15 to 30 minutes and check in regularly with how do the toner is responding to your beard hair.
Once you are happy with the colour, checked the roots, you can wash your hair with a sulphate free shampoo and rinse with warm or cold water.
If this seems a little bit too intense or convoluted for you – you should go to see a professional hairstylist and asked them to dye your beard for you.
Go and see a professional!
Going to see a professional is one of the best things you can do if you really care about your beard and any extra expense that is incurred is insurance for knowing that the job has been done properly.
Some barbers are reluctant to dye a beard is due to the location and proximity of the hair dye to the mouth, nose and eyes.
However, most are happy to do it and there is no doubt that you will end up with the best results if you trust your barber to do a good job for you.
The dangers of bleaching your beard hair
You have to be careful not to over-bleach your beard hair. There are a few things that can happen to your skin and beard hair that will mean that it will be damaged beyond repair and you may undo all of your excellent growing efforts.
Here are the risks you run:
bleaching may hurt your skin – bleaching your hair takes no more than a couple of hours but bleaching can actually hurt your face quite badly. Bleach is a really strong chemical and so it is not uncommon to experience burning or irritation at the root of the hair. You may also have an allergic reaction to the bleach which you have to take very seriously.
Your beard will get really dry – we spend a whole time as beard wearers moisturising and oil in our beard so they can look the best stop the process of oxidation that is required to bleach your beard dries it out as well. If you're planning on bleaching your beard make sure there is done after resting your beard and treating it well.
It may become permanently discoloured – because of the multiple leaching that you have to do to achieve a good white colour your hair might be damaged beyond repair. If this happens to your beard you have to wait until your beard grows out which means that it could take over a year to grow at a 6 inch long beard.
Your beard will be more prone to damage – once you start your beard off in the wrong direction it can quickly spiral out of control as damage to the hair cuticles can accelerate damage to other parts of the hair.
If some of these issues don't look good for your beard all you are not sure that it is the right thing for you then you should use a temporarily colour solution. These will not hurt your beard in the same way that bleaching and using a toner will.
Frequently asked questions
Here are some frequently asked questions about white beards that may help you with your decision to make your beard white.
Can I dye my beard white?
Yes, you can dye your beard white with a combination of bleach and permanent or semipermanent toner. If you want a nonpermanent solution you have many options online check out all of the options in the sections, above.
At what age beard becomes white?
The age at which your beard becomes white depends on your genetics. The whiteness occurs because the pigment sales in the hair follicle no longer are working and now pigment is transferred to the hair as it is growing. The age at which this happens is different for each person and can happen anywhere from 20 onwards.
Does a white beard make you look older?
A white beard certainly makes you look older. It is because we associate a whiter beard with wisdom. This is a societal assumption and as long as you don't have a super babyface your beard will make you look older if it is white.
Conclusion
Those are the ways that you will beard white in either a temporary or permanent way.
There are many products that you can use to make your beard white and you have to choose the one that is best suited to your use case.
It may be that a product that is easy to remove with water is better for your use or you may want a permanent white beard to make you look older.
Whatever you choose I hope that you are happy with your new look!