There are many reasons why you may want to dye your beard green. It could be that you are celebrating Saint Patrick's Day, doing a fun dress up or cosplay. This article will help you determine the best way to dye your beard green for whatever purposes you need.
The temporary solutions for dying your beard green include dyed products such as hair wax, coloured spray, chalk, hair gel, and hair make-up. Permanent solutions include bleaching your beard and adding a permanent or temporary dye.
Whether you want to wash it out after a night of fun or want your beard to look green for many weeks, here are all ways you can dye your beard green.
Temporary ways
The temporary ways to dye your beard green mainly involve using a product on top of the beard hair.
The temporary green colour is usually applied using a gel or spray that you can wash out in a few shampoos.
The downsides of using temporary products include:
transfer to other materials – temporary products tend to rub off on other materials and permanently stain them.
Not as intense colour – these products tend to have a much better effect on light beard hair, and only a couple of them can be applied effectively to dark hair.
Despite these simple downsides, the ease of application and the inexpensive cost make the temporary beard dying products perfect for most people.
If you want to dye your beard permanently green, you should check out the later part of this article, where I will go through how you can do it properly.
Hair wax
Hair colour wax is a wax that contains a coloured pigment that gives your beard a green appearance. Hair colour wax has the advantage of allowing you to colour and style your hair simultaneously.
It's simple to wash out, has a firm hold, and leaves no stickiness in their hair once dry.
Buy it on Amazon here: Check it out here
Pros
Works well on dark hair
Easy to wash out
This product is fantastic for Afro-black hair. And it effectively conceals black hair.
To add green highlights to your beard, use a mascara brush or a toothbrush/comb if you're applying it to a broader area.
Another option is wearing gloves and swiping your fingers into the wax, then swiping it through your beard from the path to the tip.
These usually waxes dry in a few minutes and are simple to shampoo out in the shower to return to your natural beard colour.
Hair colour spray
You may recall a colourful hairspray from your childhood.
I recall using it to change the colour of my hair temporarily and rapidly. This specific hair spray is quick and easy to use and comes from a reputable hair product provider.
I like that it's easy to get rid of using shampoo.
Buy it on Amazon here: https://amzn.to/3INYSZK
Pros
No sticky residue
easy to wash
Cons
Difficult to direct and overspray
not vibrant on dark hair
This hairspray gives your hair a powerful, long-lasting colour while being non-sticky. One disadvantage of utilising a spray over the wax or balm-based product is that it might be messy.
The idea is to spray your beard while holding a towel you don't want to use in the restroom. To balance out the colour, you can comb it out.
Because it is merely a superficial coating on the surface of your beard, some individuals feel that it is not particularly excellent at hiding up extremely dark coloured beards. Ensure you're not wearing a dark shirt beneath because the colour can readily transfer to your clothes.
Hair Chalk
Hair chalk is the least permanent method of colouring your hair.
They come in various colours, with green being one of them. It is entirely washable, non-toxic, and extremely colourful.
To apply, comb your beard with the hair chalk and continue until you get the desired intensity of colour.
Find it on Amazon here: https://amzn.to/2JeKKQi
Pros
Safe for children
not a wet application
Cons
Easily removed and transfer
hard to achieve dark vibrant colours
Some customers reported that it was difficult to get the chalk to stick to their hair.
The answer to getting a beautiful and deep colour with hair chalk is to do multiple light brushstrokes through the hair.
One of the downsides is that hair chalk frequently transfers to other surfaces, so avoid wearing anything you don't want to be covered with chalk.
Hair gel
This green hair gel will give you a beautiful deep green colour that is significantly more vibrant than silver hair colouring.
It works on dark and light hair and gives a strong hold akin to a stronghold hair gel.
Get it on Amazon here: https://amzn.to/3tS9mmw
Pros
Can mix colours
blowdry to fix colour in hair
very easy to wash out
The simplest method is to take a small amount of hair gel and rub it through your beard hair while wearing gloves. To lock in the colour of the hair gel, blowdry and brush your beard simultaneously.
Mixing it with a leave-in conditioner is a great way to stretch the bottle and save the inconvenience of buying two or three bottles to cover a lengthy beard.
Just a warning that as this gel dries, it becomes quite hard. As a result, you won't be able to restyle your hair after it's completely dry.
Conditioner hair dye
While dying your beard green, you can also condition it.
This conditioner contains a colouring agent as well as a conditioner.
It's a non-lather conditioning cleanser meant to colour-infuse your hair with each wash. Typically, the effects will last 10 to 15 shampoos:
Get this on Amazon: https://amzn.to/3DqjqGE
Pros
An easy semipermanent solution
many colours that you can mix
Cons
Some people report staining of bathtub
not very vibrant on dark hair
The results of this conditioner hair dye have been praised. This option is a semipermanent choice for individuals who want a longer-lasting solution but don't want to commit to a permanent colour change. This approach to use, according to some, is the ideal method to use:
Apply to dry hair and let on for 10 to 15 minutes (the longer you keep it on, the more vivid the colour is). Rinse well with your favourite shampoo.
This is a relatively new product on the market, so it might be a good method to colour your beard green while also lasting longer than the other alternatives on this list of temporary beard dying.
Use a fake beard
Using a good old-fashioned fake beard is one of the last techniques to manufacture a fake green beard. Yes, I realise that this will not provide the best results and will not appear natural, but it is considerably easier to apply a thin artificial beard over your current beard than colour it.
Buy this on Amazon: https://amzn.to/3IWTTG4
If you don't want to go through the trouble of colouring your beard or using any of the products listed above, you can get a very cheap artificial beard that will sit right on top of your existing beard.
You may turn your beard green with various techniques that are just temporary. If you want your beard to be green for a short period, such as if you want to dress up as a leprechaun or play dress up in any other way, the options mentioned above are ideal.
Let's look at the actions you'll need to do if you want your beard to stay green forever. You've probably figured right that you'll need to dye your beard and visit a professional to get it done properly at this point. You'll get considerably better results if you go to a professional barber.
Permanent options
Separate dying treatments are required to achieve a truly excellent green beard.
You'll need to back up the bleaching with a green dye to finish your green beard transition.
Bleaching agent
Because your beard rests on top of extremely delicate skin, such as your face, you must use extreme caution when bleaching your beard.
You must ensure that the bleach does not contact your skin and that it stays away from your eyes and mouth. It's much easier said than done.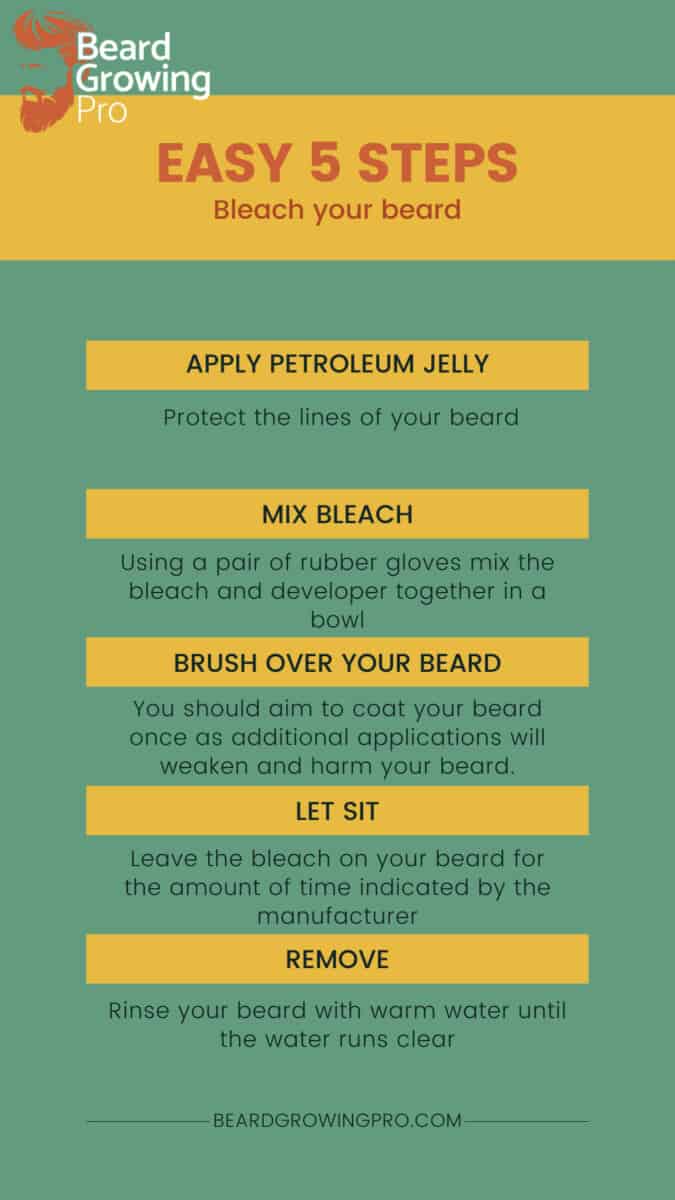 If you're bleaching your beard, here are the steps you'll need to take:
Use petroleum jelly to preserve your beard's lines – make sure the bleach doesn't get into touch with the skin close to your beard by using petroleum jelly-based products like Vaseline.
In a mixing dish, combine the bleach and developer with rubber gloves. Use a bleaching agent and create a solution tailored to your face's needs.
Dip an applicator brush into the bleach mixture and brush the mixture over your beard. It would help if you only coated your beard once since multiple applications can weaken and perhaps injure it.
Allow the bleach to sit on your beard for the period specified by the manufacturer. To confirm that your hair is gone to the base, use rubber gloves to expose the root of your hair.
Rinse your beard well with warm water until the water runs clear and any remaining bleach has been eliminated.
Your beard will turn yellow rather than white as a result of this.
It's a widespread myth that bleaching hair causes it to turn white. However, the yellow or orange tones are perfectly acceptable if you're only bleaching your beard hair.
Use a temporary or permanent green dye
After bleaching your beard hair, you will get a much more intense colour.
After bleaching your beard hair, the next step is to choose a temporary or semipermanent green dye to turn your beard green.
Temporary Green Dye
You can dye your beard green using a one-day temporary hair make-up that washes out with shampoo.
Check it out on Amazon: https://amzn.to/3JYZoWg
Once this is dry, it is relatively transfer resistant.
To remove it, all you have to do is wash your beard.
A word of warning: on really light hair, this product can last a while, so if you are bleaching your beard before you are putting the dye in, it may last for longer than you want.
Semipermanent green dye
another great option is to use a semipermanent and cruelty-free colour dye.
One of the best online is the Arctic Fox vegan semi-permanent hair colour.
Check it out on Amazon: https://amzn.to/3Lu1j5t
This product is most effective when put on pre-lightened beard hair, but even darker hair will have subtle emerald tints.
Their products are formulated from all-natural ingredients that contain no alcohols or harsh chemicals that will dry out your beard.
As a bonus, 15% of the profits of this company are donated to animal charities.
The results that you get may vary based on the colour of your underlying hair. Natural base colours do not pigment as well, and you will also see the colour fade faster.
Applying the hair colour is very simple.
Wash your beard but do not use conditioner
use coconut oil or Vaseline to line your cheek and on your ears and neck to prevent staining
wear protective gloves
Pour desired amount into a bowl
apply the colour evenly with a brush and begin at the base of your beard and work evenly throughout the ends
leave on your beard for at least half an hour
rinse your beard with H2O until the water runs clear
for the first rinse, do not rinse the beard hair while showering – it will pull out a lot of the colour.
Go and see a professional
Going to a professional is one of the best things you can do if you care about your beard, and any additional cost is insurance that the work will be done well.
Some barbers are hesitant to dye a beard because of the hair dye placement and proximity to the mouth, nose, and eyes.
On the other hand, most barbers are pleased to do it, and there is no question that if you trust your barber to perform a decent job for you, you will get the greatest results.
Summary
In this article, we have been over everything you need to know about dying your beard green for fun, Saint Patrick's Day, or other dress-ups.
Depending on whether or not you want to be able to wash it out within a couple of days or you want a much longer-lasting treatment, there are many options for you.
Make sure that you choose a product that matches the colour of your beard hair, and consider lightening your beard hair with a bleaching agent if you want a vibrant effect.