It doesn't matter if you are a long way into your journey or you have only just decided that a beard is for you! CONGRATULATIONS on making a bold and strong decision to wear your awesomeness on your face. You will face many stages while growing your beard, and you will be tested as you progress through each stage. Sometimes people give up too early on some of the beard growing stages when all you need to do is push through a little bit more.
The stages of growing a beard involve itchiness and scruffiness in the early stages, learning to use products and trimming tools efficiently in the medium length stages and then keeping up with conditioning in the longer stages.
In a hurry? Here are the stages of beard growth you can expect to go through.
One week in – not much to show at this stage other than a bit of overgrown stubble. It can be itchy at this stage for some people. You'll still be able to see the skin underneath.
Two weeks in – you look scruffy, and some people don't push past this stage. It is important to remember that beards get much fuller and denser as people age.
Four weeks in – your beard should be looking much more beardy, and you'll be filling in those gaps that you were worried about in the early stages.
Weeks six – this is where the beard starts growing out enough so you can redefine your jawline. Keep on growing to cover up those pesky patches.
Week six – define the neckline, trim stray hairs and start to use the product to condition and look after your new beard.
Week eight – After two months, your beard will likely start to look fuller and denser than it has before, and the length is starting to become long enough that to can start to trim in some more interesting shapes along the bottom of the beard.
Week ten – the chin is starting to get some nice length to it!
Week sixteen plus – Keep growing until you get the beard that you have always dreamed of – the worst is behind you!
Your new face warmer will evolve and morph throughout its entire journey. This is why it is going to be so important for you to have a clear vision in mind. It will certainly help
Stephen R. Covey states in his book The 7 Habits of Highly Effective People: Start with the end in mind.
By working out where you want to end up with your beard, you'll have the determination to get through the stages of growing one.
There are plenty of awkward stages which will make you feel like giving up!
If you want to know what lies ahead and how you can best prepare for each stage, this blog post is for you!
Here is the growth of my beard in gif format:
Work out why you want to grow a beard.
If you are in the very early stages, my recommendation to you is that you figure out exactly why you want to grow a beard in the first place. Your "why" will be your power play when you are up against the feeling a couple of negative comments gives you.
I wanted to grow a beard for a couple of reasons:
I love challenges, and I wanted to see if I could grow a beard that I was proud of and
I felt like I needed and wanted a personal style.
You see, my hair was thinning on the top of my head and, knowing that I could grow a good beard, I wanted that to be the focus of my style. I didn't like that my head looked like a ball with a face on it!
What is your reason(s) for wanting to grow a beard? If it is just for fun, that is OK too!
Here are a couple of reasons that you may resonate with:
Laziness – Be careful if this is you. Growing a beard is the lazy man's dream in the beginning. After all – you have to do nothing. However, after the initial beard-growing stages, it is a lot of hard work if you want your beard to look good! Be warned!
Warmth – Winter is the time people search more about beard growth. Be careful, though! You may fall in love with it and keep it forever!
To look more attractive – Who doesn't want to look more attractive! Beards can make you stand out for all the right and wrong reasons. Do plenty of research on making your beard look good and read more articles on this blog to allow you to keep your beard looking awesome.
Create a personal style? This is the reason I grew a beard. Defining a personal style and choosing something that makes you stand out is a great way to grow your professional or personal brand.
OK, let's look at the different stages and what you need to do or keep in mind for each stage.
Here's a video summary of all of the stages that I went through:
Now let's take a detailed look at all of the beard-growing stages and the tips and tricks for surviving each one!
Getting started – day zero.
Beard growing day zero!
Good on you – you want to grow a beard! You look fresh-faced, and you feel as optimistic as ever as you start your beard growing journey.
Laying the best foundations possible for your beard green journey is your number one goal in this early stage. It is probably worth taking a photo of your face at this stage so that you can monitor your progress over the coming weeks and months.
It's time to chuck away that razor blade and start waiting.
Here are the things you need to do in these early stages to make sure that your beard grows as thick and full as possible:
Look out for ingrown hairs. If you've been shaving your face regularly, you may have ingrown hairs. Make sure that you know where they are to get them out soon. Once your beard comes in, they'll be covered up, and you don't want them causing any irritation.
Moisturize. Lay the foundations of your beard growing right now! Get a good moisturizer and use it regularly. The early stage of growing your beard isn't the right time for dry skin!
Take a photo of your face. Make sure you have a nice photo of your face pre-beard. Firstly, it'll help you notice where you have come from. And secondly, it is fun to have a before and after to share with friends.
Let the growing commence – the most difficult stages!
It is at this stage that you will be challenged the most. It'll go from looking like you forgot to shave to a mediocre beard. But hold in there, and you'll get to your desired beard!
One week in!
Here is my "beard" one week in. There's not much to show at this stage other than a bit of overgrown stubble.
For those who have nice dense beards, you'll notice where it'll grow faster than other places. For example, my chin grows faster than anything else. So it will look fuller and more substantial than my cheeks.
In this early stage is also a good idea to look at the different densities on your beard and take note of which direction the hair grows on different parts of your face.
By making small circular motions over the entire surface of your face, you can quickly create a map for you to determine your growth direction and capability in the future.
Two weeks in.
From two weeks until about six weeks, it will look scruffy! The hairs will not have any length to them and will therefore not sit in any particular direction. The shorthairs will have a life of their own, and it will be very hard for you to continue growing if you do not accept that it is just going to look a little bit shabby and unkempt for a little while.
Your neckline and cheeks will have no definition – do not be tempted to cut them in – you'll run the risk of ruining your beard shape. In this early stage, do not be tempted to take a reasonably to your neckline even if it is itchy.
Allowing the beard to develop completely naturally will allow you to determine where to shave your cheek and necklines in the future. It will be much easier to locate the point of maximum density in a couple of weeks.
The only bit of advice is to keep on moisturizing and don't be tempted to cut anything at this stage – I mean it! Keep an eye out for ingrown hairs at this stage while you can still see the skin through the developing beard.
Four weeks in.
At the one month or four week stage, your beard should be looking much more beardy. But it'll be so short that you will not have any control over the hair.
The edges of your beard will look like a tennis ball and will still follow the lines of your face. Many people feel like giving up as the patches and gaps in the beard become very obvious. Do not worry because the surrounding hairs will completely cover up the patches in weeks.
Someone once told me that it was like pubes or a tennis ball. You can invest in a good quality beard oil and combat this stage. Don't go too overboard with the accessories, though.
Now would be a good time to check out my top 10 tips and things I wish I had known about beard growing.
Here is my YouTube video where I share the five things and no one told me about growing a beard, and it may help you in the early stages of growing out your beard.
It'll start to feel like you have a beard but don't be tempted to shape it up just yet. Save that until week six!
Weeks six to eight = full glory?
This length is where your patience and hard work will start to pay off! Your beard will be looking much more substantial and will be able to take on its shape. There are still a couple of things to take into consideration, however!
Week six
At the week six stage, you need to do two things:
Define the neckline of your beard.
Trim the stray hairs that do not grow anywhere near your beard. Also, trim the hairs high up on your cheek.
If you'd like to know how to trim your neckline, head over to my other blog that will talk you through the two ways that I do it!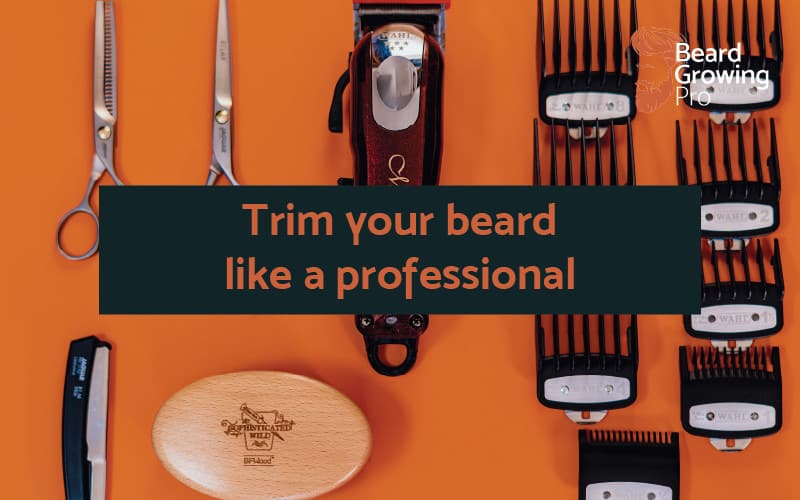 You'll notice in the above photo that my cheeks have been tidied up, and those annoying neck hairs are now gone. Keep trimming up those beard borders, and you'll feel like you are slowly taming your beard!
I liked this stage of my beard growth as I was starting to become very proud of the beard that I grew.
The moustache area of the beard may start touching your lips and becoming uncomfortable. I recommend trimming off the lower line of the moustache if it is tickling your lips. You can do this with a pair of scissors very easily.
At this point, your beard will also only be following the shape of your head. Not too much of the shape will come from the growth of the hair but over the next two weeks, that will change.
Week eight
The beard should be much fuller than it was in week six, and it will start to be able to be shaped – only in the lightest way possible, however!
At this point, you should consider getting a professional barber to look over your beard and give you some advice.
I knew I wanted to increase the length of my chin and cheeks, so I only cut my moustache shorter – because it was annoying as it was going into my mouth!
I also thinned out the sideburns as they were starting to look a little unkempt at this stage of growing a beard.
Some people like to halt their beard at this stage and enjoy the medium to short length they can grow. Learning how to blend your beard into your hairstyle will allow you to skip going to the barber for a couple more weeks.
Buying a good set of trimmers and starting to invest in products such as beard oil, beard balm, and beard butter is where you'll start having fun with looking after your beard.
Setting a good daily schedule for your beard routine starts now.
Having a good beard routine that includes daily, monthly, weekly, and fortnightly steps will keep your beard looking awesome. If you want to know more about the best beard routines, you can check my YouTube video below, where I share the best beard routines for short, medium and long beards.
Week 10 – 16
You can start being as proud as punch of your new look at this stage.
It may be that you haven't quite reached your dream beard yet, but this is when you can start having fun with your new beard!
Week ten
In my week ten image, you can see that everything is starting to look super full. The chin is starting to get some nice length to it. The bottom has a little bit of weight to it too. Overall, it looks bushy and lush.
At this point, my full grooming regime is in place and happens daily:
Wash with mild soap or beard shampoo (every two days)
Shave cheeks and neck in the shower
Towel Dry
Blow-dry with a comb to control how the beard lays
A small amount of conditioner or beard oil
Wax/balm to control the sides and moustache
At this stage, your beard still can have an oval shape as it still follows the shape of your face. But it is just long enough that you can start to get the shape that you want to achieve with the right trimming.
Week 16
Longer style beards will be able to be shaped up at this length. You can see that the chin is starting to get a good bit of length to it. Maybe it looks a little like "a dad with a beard", but the hipster calling isn't too far away.
The routine doesn't change from here on unless you want to grow a fancy moustache and get that super hipster handlebar thing going on.
Keep growing until you get the beard that you have always dreamed of. The worst is behind you now, and a bearded future is upon you!
Enjoy this stage!
The place you want to end up
Because you created a vision board early on, you know where you need to end up.
My idea of a perfect beard is always changing, and I'm always looking for a new beard shape and style.
Your beard will constantly evolve as it grows, and you learn about new products and how to look after your beard better.
Here is the most up to date version of my beard as of the time of writing this blog post.
At this stage, I have been growing my beard for approximately two years. I have halted my beard at a length of approximately 6 inches from my chin. I like that this beard is long enough to give me a substantial beard but has not become thin at the ends.
At this stage, I am trimming up my beard every two weeks to maintain the current length, and I am brushing, combing, and looking after my beard every day.
The most frustrating part of having a beard this length is the moustache area. I need to trim up my moustache to keep it out of my mouth and ensure that I'm not chewing on it when I eat food.
Here is how I trim up my long beard to keep it looking sharp and lined up:
Regular deep hydration treatments mean that my beard is never dry, even at the ends. With a longer beard, you have to be very careful that the ends of the beard don't end up very dry and become split.
With a long beard, the natural oils produced on the skin's surface struggle to make it down to the ends of the beard. Products are the only way you can supplement this loss of natural oils at the extremities of the beard.
Final thoughts
Growing a beard was a great journey, and I've got no hesitation in recommending that you embark on your beard journey if you choose to.
Each of our growing beard stages will be quite different. Depending on how quickly or slowly your beard grows, the stages may come a little faster or slower for you.
No matter what – patience and holding back on the trimmer in the early stages will be the best thing you can do to grow a beard you are proud of!